Spring 2022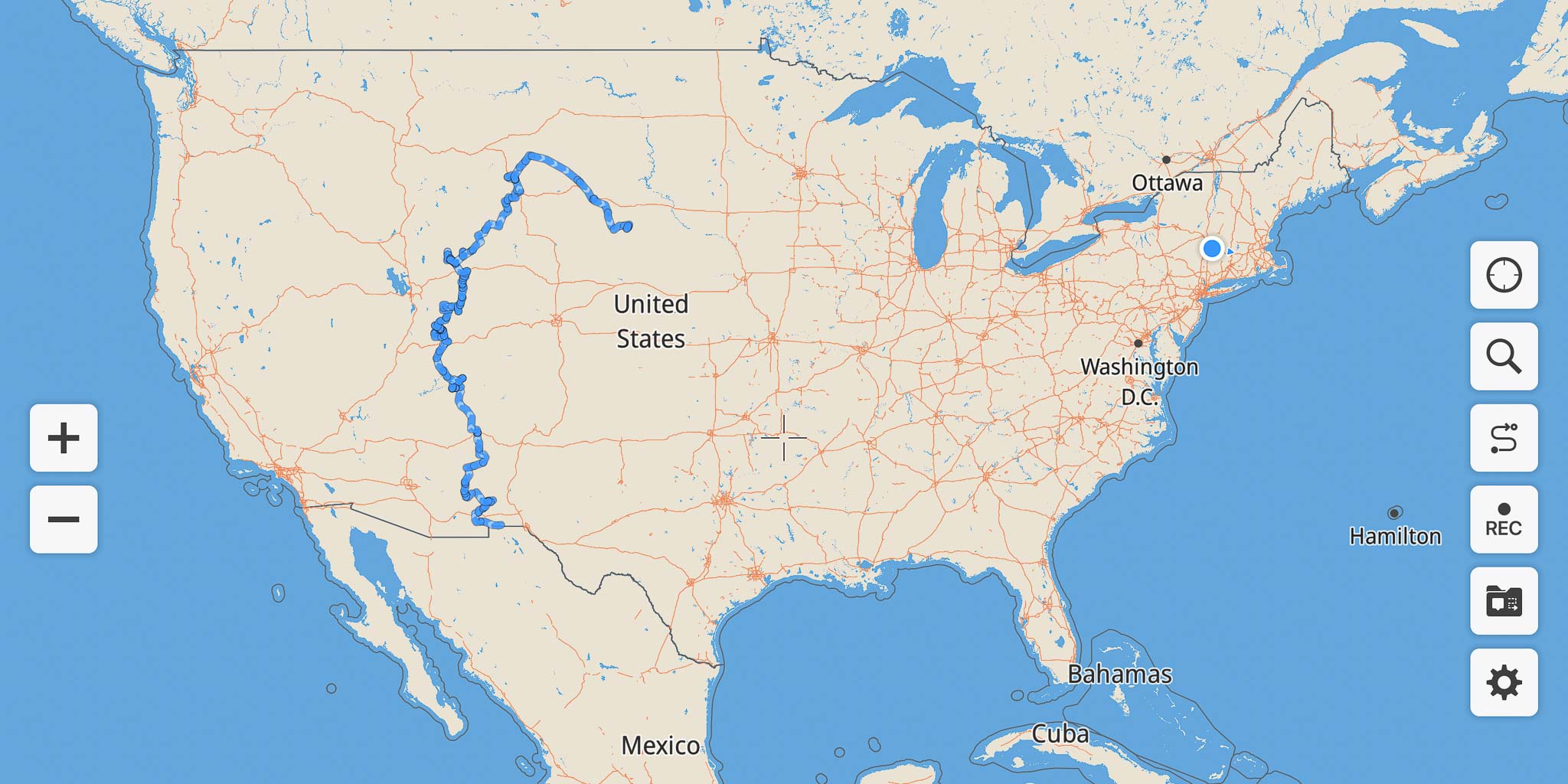 I've been many places over the 15 years I've been on the road but it's been a few years now since I've been up through Utah and Wyoming. Some of my favorite country is up that way so this spring on my trip east I decided to head for the Rocky Mountain Leather Trade Show in late May in Sheridan WY as an excuse to head up that way again and try to see some areas I haven't seen before. In the past I've stuck pretty much to the better highways so this time I made an effort to take as many dirt roads as I could, thinking that would get me places I haven't been. It pretty much worked while adding some challenges too.
I'd been hanging out alternating between Pancho Villa State Park in Columbus NM and City of Rocks State Park north of Deming NM for a couple months and was getting bored and anxious to get on the road. So I decided to leave early and make my way slowly up to Sheridan. In hindsight I left a bit too early in the season and ran into some left over winter conditions here and there. But that just added some spice to the trip. Despite my efforts to travel slowly I still got to Sheridan a week early.
Leaving Pancho Villa State Park, Columbus NM
2022-03-31 I'm outa here! Let's GO!
To Chisom Trail Campground, White Signal NM
2022-03-31 ~ 135 miles — First stop out of Columbus NM: Chisom Trail Campground, Gila National Forest, White Signal NM (32.548425º N, 108.425619º W). Not much to write about on this leg. I took NM Route 9 west from Columbus as the first leg of this day. Other than a few glimpses of the wall and some Border Patrol presence there wasn't much of interest out this way. I hadn't been through the Playas Lake / Lordsburg Playa area before. It's quite desolate out there. Even the cactus struggles.
The Continental Divide Trail and Cattlemens Trail intersect at the campground so there was a fair bit of activity over the weekend. My friend David Johnson came by and we had a bit of a gab-fest catching up over the weekend.
To Mule Creek Dispersed, Mule Creek NM
2022-04-05 ~ 103 miles — Met David there again. He is off on his big summer around Utah and our routes coincide for a way. Took a detour to get a glimpse of the big copper mine east of Silver City on the way. Quite an impressive hole in the ground and considerably deeper since I was last through the area. This dispersed site (33.105681º N, 109.045414º W) is at the very NW corner of the Hell Hole Wilderness Study Area of Gila National Forest. Nothing to write home about.
To Owl Creek Campground, Clifton AZ
2022-04-06 ~ 29 miles (3-1/2 dirt) — A short days ride. Met David there again. The campground is in the Gila Box Riparian National Conservation Area but there is nothing particularly memorable about the campground (32.966080º N, 109.306775º W). Here David and I parted ways as our plans diverged.
It was only 3-1/2 miles but this was the first of many many dirt roads on this trip. I like dirt roads. They can be a challenge. Lots of sand and dust gets in everywhere. Washboards can be j-j-j-j-aring. But they go places few people go. And lead to adventure. Stay tuned!
To Granville Campground, Morenci AZ
2022-04-10 ~ 27 miles (3-1/2 dirt) — Another short day. This one spent poking along through the immense copper mine in Morenci AZ. That's one HUGE mine. Again considerably larger since I was last through here. Granville Campground (33.187285º N, 109.383413º W) was a tight fit with my trailer in tow and not some place I'm likely to stay again.
To US 60 Rest Area, Red Hill NM
2022-04-11 ~ 122 miles — This was a pleasant ride up the ridge through Strayhorse and Alpine to Springerville where I turned east on US 60 back into New Mexico where I stopped at the rest area just over the border (34.206259º N, 108.921032º W) for the night.
To Valley of the Gods, Mexican Hat UT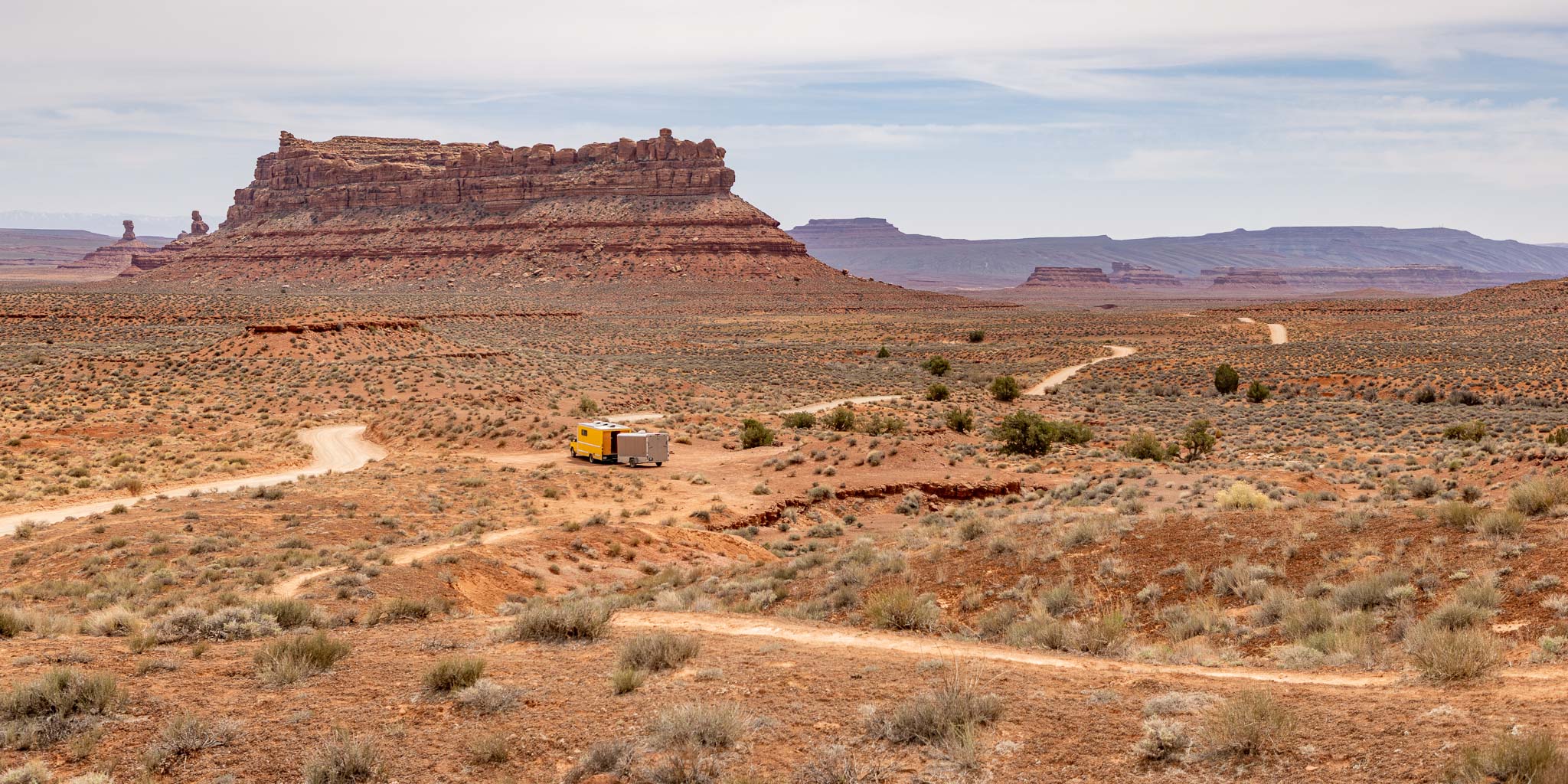 2022-04-12 ~ 338 miles (20 miles dirt) — I spent 5 days boondocking in various sites in Valley of the Gods BLM north of Mexican Hat UT (37.300241º N, 109.850965º W). Beautiful place! All dirt roads! Lots of neat formations to photograph. Sort of a mini Monument Valley without the crowds.
To Muley Point, Mexican Hat UT
2022-04-17 ~ 10 miles (10 miles dirt) — Yeah, it's not far but it IS up the challenging Moki Dugway. I love challenging! Did I mention the Dugway is dirt? And of course I had to add to the challenge by going way too far out a two-track into the boonies east of Muley Point, trying to get a camp with a view off the cliffs to the east.
Didn't happen. Oh, I got to the view alright but I was too intimidated by the road in there to even think of staying. By the end I was sure I was going to get stuck amongst the rocks and not be able to turn around with the trailer. But I got 'er done and had an adventure. The first of several dirt road adventures. Yes!
Muley Point, Glen Canyon National Recreation Area (37.237391º N, 109.980281º W), is one of my favorite spots overlooking the San Juan River far below and Monument Valley in the distance. I always get some neat pictures there.
To Comb Wash, Blanding Utah
2022-04-19 ~ 45 miles (7 miles dirt) — Comb Wash is a popular boondocking area and I finally found a spot: Arch Canyon Camp 3, BLM, North of the Highway (37.519002º N, 109.657260º W), just before the Ute reservation lands. It's a very small site with just barely enough room to get my rig and trailer in off the road. It may have been a Tuesday but the better spots were taken. Dirt road of course.
To Soldier Crossing, Fry Canyon UT
2022-04-20 ~ 76 miles — There are several nice BLM boondocking spots along UT 95 between Fry Canyon (I stayed at the lodge one time in an earlier life :-) and Hite Crossing. I've camped at many of the boondocking spots in the past. This time I chose Soldier Crossing, so named for this White Canyon crossing (37.683643º N, 110.219953º W) used in 1884 by a posse of soldiers and cattlemen pursuing a band of Utes and Piutes who stole 150 horses over in Verdure Utah. The band ambushed them at Piute Pass a few miles beyond the crossing, killing two men who were later found and buried here by prospectors Cass Hite and Joe Duckett. Soldier Crossing is one of a very few places to cross the White River canyon.
BATTLE OF PAIUTE PASS

ON JULY 15, 1884 A U.S. CALVARY SCOUT NAMED JOSEPH S. WORMINGTON AND A COWBOY NAMED JAMES "ROWDY" HIGGINS WERE KILLED IN A BATTLE WITH INDIANS AT NEARBY PAIUTE PASS. THESE MEN WERE PART OF A POSSE OF CATTLEMEN AND SIXTH CAVALRY –F– TROOP SOLDIERS FROM FT. LEWIS CO. WHO WERE CHASING A BAND OF RENEGADE UTE AND PAIUTE INDIANS LED BY MANCOS JIM. THE INDIANS HAD STOLEN 150 HEAD OF HORSES FROM THE ROUND-UP GROUNDS IN VERDURE, UTAH. AFTER A 75 MILE CHASE THE UTES AND PAIUTES LED THE POSSE AND SOLDIERS INTO AN AMBUSH. TWO MONTHS AFTER THE BATTLE PROSPECTORS CASS HITE AND JOE DUCKETT FOUND AND BURIED THE REMAINS. THE UTES AND PAIUTES WERE WATCHING THE U.S. GOVERNMENT ABSORB THEIR HOMELANDS. THEY FOUGHT BACK IN THE ONLY WAY THEY KNEW HOW. THE SOLDIER GAVE HIS LIFE IN THE SERVICE OF HIS COUNTRY. THE COWBOY DID THE TOUGH JOB HE WAS PAID TO DO AND A LITTLE MORE. ALL OF THEM PLAYED OUT THEIR HEROIC ROLES IN THE EPOCH STRUGGLE TO SETTLE THE OLD WEST.
To Horse Canyon Road, Wellington UT
2022-04-21 ~ 161 miles — I was going to spend more time in the White Canyon area but discovered a leaky transmission drain plug and decided I best move along and find some transmission fluid before I got stranded way out here in the boonies with no cell service. I got all the way to Green River UT before finding a NAPA store with the proper fluid.
Man, I gotta slow down, I'm way ahead of schedule. I'm sure to run into some iffy weather if I get much farther north this time of year. But this Horse Canyon Road BLM boondock (39.418334º N, 110.41983º W) doesn't seem a great place to drag my feet. A couple nights will be enough for me. This valley on the northeast side of the San Rafael Swell is not very picturesque and this boondocking spot is too popular with travelers looking to overnight to boot.
To Green River Cutoff, Wellington UT
2022-04-23 ~ 92 miles (83 miles dirt) — Well that was an interesting ride. Ended up 15 miles south of where I started, at a spot to pull off the Green River Cutoff just before coming out to the highway again. Sheesh. Oh, well, I wanted to drag my feet - this oughta do it! Over 80 miles of dirt to boot! Heading out this morning I saw a sign for Buried Forest Concretions and decided to check it out. Not much to see from the parking lot so I headed farther in along the dirt road, then right Price River Road, left on Mound Road, looking for a spot. Nothing. Left on Desert Lake Loop and Victor Reef Road. Still nothing. Ah - Dinosaur Quarry Road - paid a visit to the quarry at Jurassic National Monument and had a look around. Not too interesting. I'm not in a touristy mood I guess.
I continued on south along Victor Reef Road. Now I'm seeing boondocking spots - all taken! Huh? What's happening here? I know it's the weekend but still - all taken? I turn left on Green River Cutoff road. Lots of side-by-sides zipping around. Boondocking spots all full. Turns out there was a big side-by-side rally going on. Getting discouraged now. Coming down off the east side of the Swell got unexpectedly dicey! The Green River Cutoff is a nice, well gaded, dirt road until it suddenly narrows coming down the east side with big dips I keep bottoming out the hitch on. There were a couple dips I wasn't sure I'd be able to cross without getting hung up. But I made it and finally found a spot to pull off just east of the railroad (39.203997º N, 110.351665º W). Got a nice dose of dirt roads anyway!
Dips are a common feature in desert country. It doesn't rain a lot and on lesser traveled roads it's cheaper to put a dip in the road than install a culvert. The problem is sometimes the approaches are too steep and my hitch bottoms out on the approach when the rear tires get to the bottom of the dip. In an extreme case one can get hung up with inadequate rear traction to make it across. Hasn't happened to me yet but there have been some close calls!
To Price River Road, Wellington UT
2022-04-24 ~ 35 miles (7 miles dirt) — Sheesh. I ended up pretty much where I started, pulled off by the railroad at a spot I had passed by yesterday. It turns out to be a fairly good spot (39.451836º N, 110.538872º W) and I got a few interesting photos here. More dirt roads.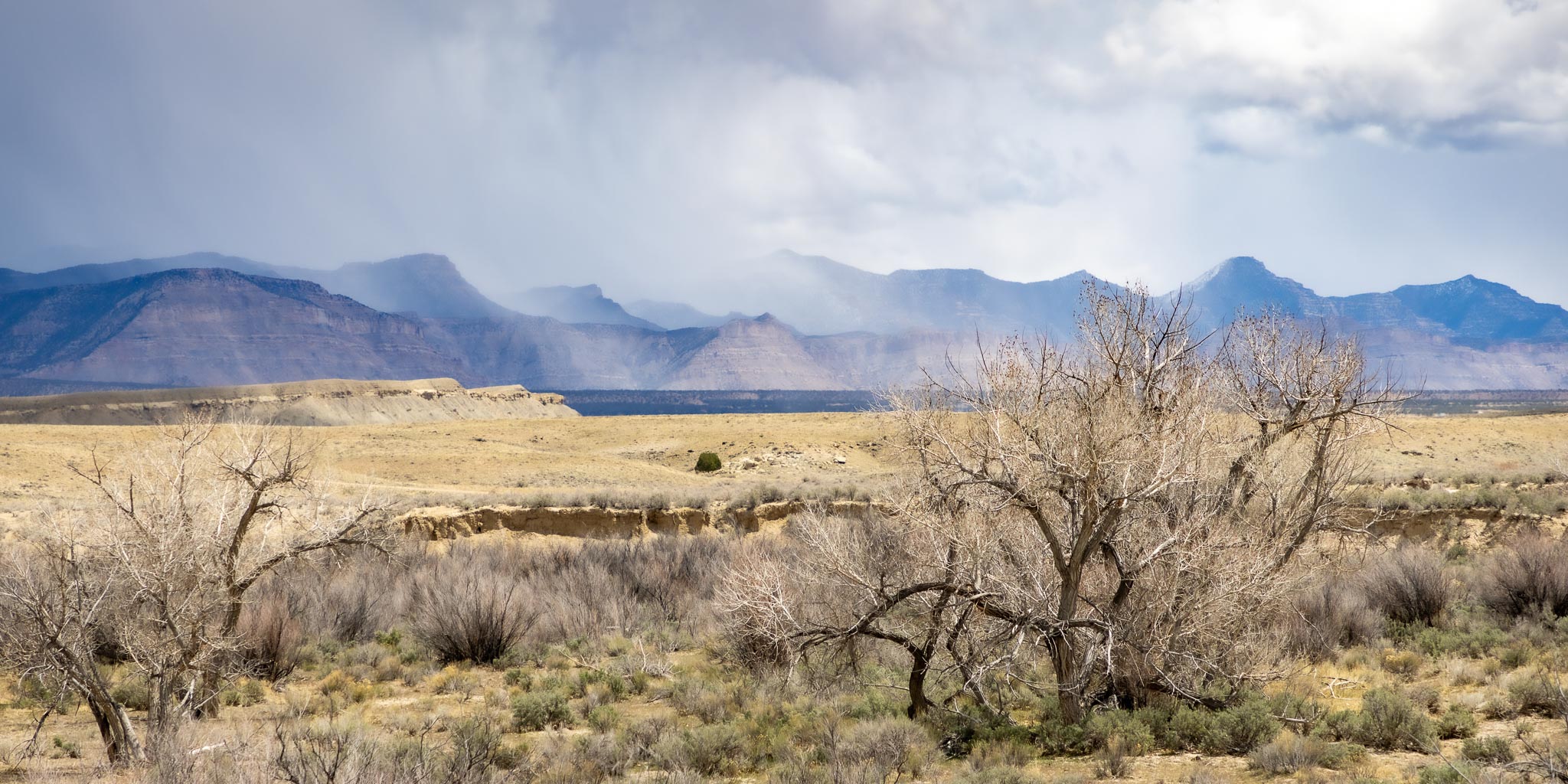 To Buried Forest Concretions, Wellington UT
2022-04-25 ~ 12 miles (12 miles dirt) — Looking for another boondocking spot I ended up back at the Buried Forest Concretions parking lot (39.468751º N, 110.542123º W) for the night. I wasn't going to camp here but changed my mind. I spent two nights here, took the one mile hike to the concretions, and got a few interesting photos. Nice views and good cell service - not a bad camp after all.
To Nine Mile Canyon Road, Myton UT
2022-04-27 ~ 75 miles (8 miles dirt) — The road through Nine Mile Canyon, known for the many petroglyphs sites up and down the canyon, is paved except for the climb up to the top of the ridge to the north. That part is well graded dirt with tandem dump truck and oil field traffic which is tricky on the blind hairpin turns. I made camp at the crest of the ridge (39.882350º N, 110.233273º W). There are several nice boondocking spots up there with great views. I spent two nights there.
I met a few of those tandem dump trucks on the climb out of the canyon. Meeting them on the hairpin turns gave me a couple tense moments! There were a couple tanden oil tankers too. On the hairpins they have to swing wide, taking up both lanes. It can get a little dicey at the blind hairpins with tall cliffs on the inside. Everybody comes to a screeching halt, then sort it out. I met one that way, we sorted it out, then I go around the turn and there sits another one waiting for me. They must have radios. Plus they drive fast! The whole thing is only about 5 miles to the top, and the few hairpins are down near the bottom, so not too bad overall. At least the road is well graded.
To McCoy Flat Road, Vernal UT
2022-04-29 ~ 144 miles (4 miles dirt) — McCoy Flat Road (40.347499º N, 109.573537º W) has several good boondocking spots. McCoy Flats Mountain Bike Trail System trailhead is on this road. It's a very popular recreational area. I stayed three nights here, dragging my heels.. On the way up I checked out the Pelican Lake area for boondocking but didn't find anything interesting. I also drove around the nearby Ouray National Wildlife Refuge while I was there. There wasn't much to see other than the wonderful photo op a couple pronghorn antelope generously gave me at the entrance going in. I got a couple really cool shots!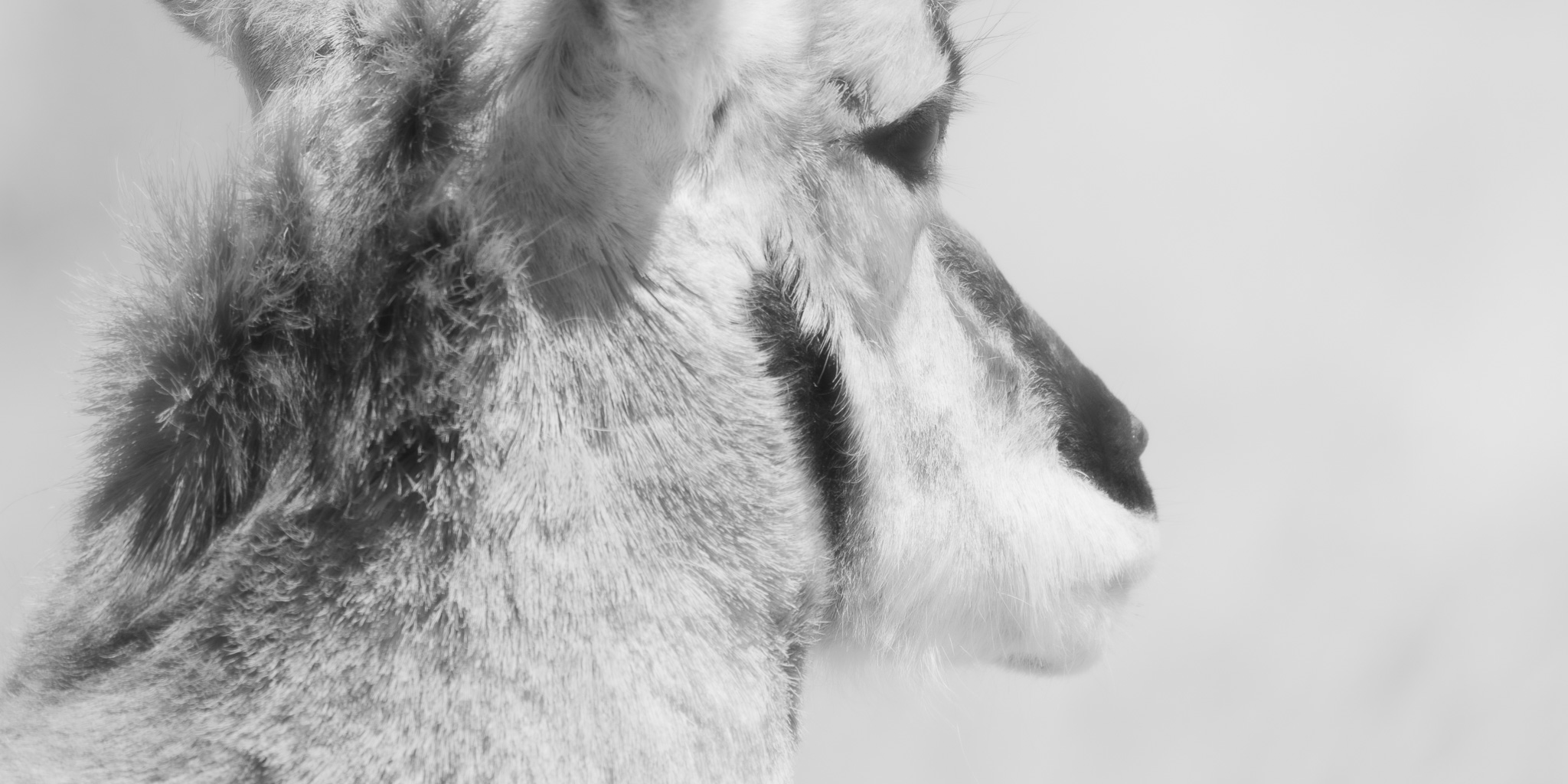 To Flaming Gorge Alt Loop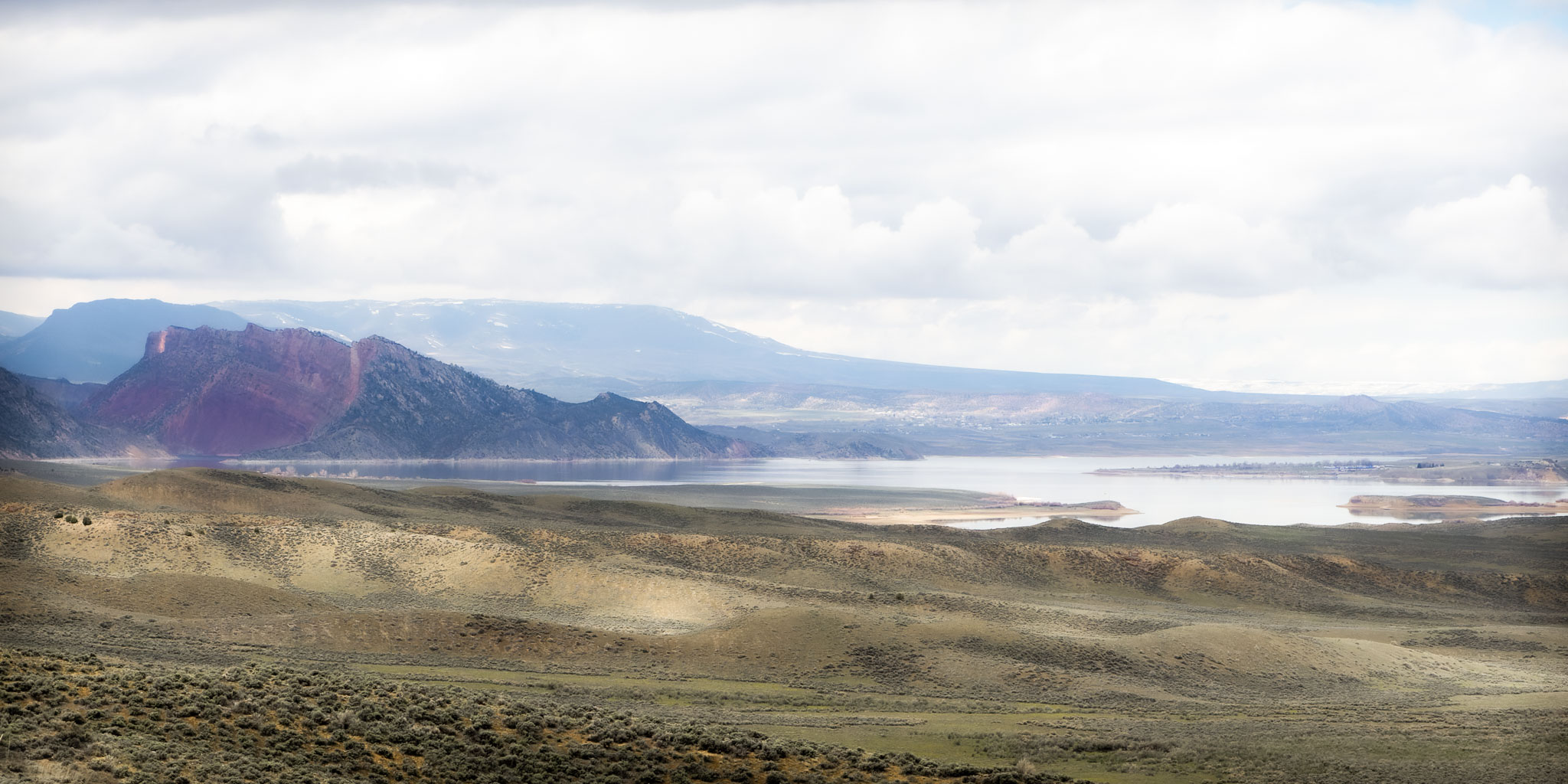 2022-05-02 ~ 70 miles (6 miles dirt) — Here's where the dirt road adventures get serious! First off, at a pullout just before the Wyoming border I got a really nice shot of Flaming Gorge Reservoir. Just over the border I took a left on Flaming Gorge Alternate Loop, a dirt road along the east side of the gorge. I hesitated doing this. It's pretty early in the season. The road shows signs of muddy spots and there probably isn't more than one car a day using it. If that. What the heck, let's go!
Good decision. Then it snowed. Four to five inches. Maybe it wasn't such a good decision after all. Now I'm stuck until the snow melts and the road dries. I'm in a beautiful hilltop spot overlooking the gorge (41.072673º N, 109.472812º W) but how long might that take? I have enough supplies for a week or so before it gets uncomfortable but after that... Dirt roads out here in the west are completely impassable when wet. There is not usually any gravel on the dirt and they turn to several inches of the worst wet, sticky, slick mud one can imagine.
At least I'm having a dirt road adventure and getting some nice pictures.
Amazingly the snow was gone in three days and on the fourth day I took a chance and decided to head out. After all, a couple cars have gone by. If it got iffy I could always stop and wait it out.
To Rock Springs WY
2022-05-06 ~ 72 miles (44 miles dirt) — I decided it was dry enough to attempt driving out to the north. This day took me some places I really shouldn't have gone. But it was fun.
Along the way I have my eyes peeled for a boondocking spot for the night. This spot (41.33262° N, 109.45405° W) looks pretty good from the road and on the map. First I checked out the campground a little farther on (closed) and the beach area beyond it (not so good), then doubled back to check this area out. I approached this particular spot from the southwest, down by the river. When I got there it turned out to be on a hillside and the two-track up was gully washed on both sides. Wow. I'm in a predicament now! Backing out is tricky at best. If I can get through this gullied spot I should be able to either turn around or keep going up the hill to the northeast.
Nope. Dang, I shoulda walked up and had a look about. But no - full steam ahead! Turns out it was much worse up there - completely impassable. And no space to turn around with the trailer either. Yikes!
I had to back down the winding path between gullies — with the trailer. While not letting the trailer slip to either side into a gully. That would have stuck me solid. It was sandy too so the front end didn't track well when I applied any brake. I took a lot of time, inch by inch, for fifty feet or so and made it down. Phew - that was close! The difficulty and cost of getting a tow way out here gives me the willies.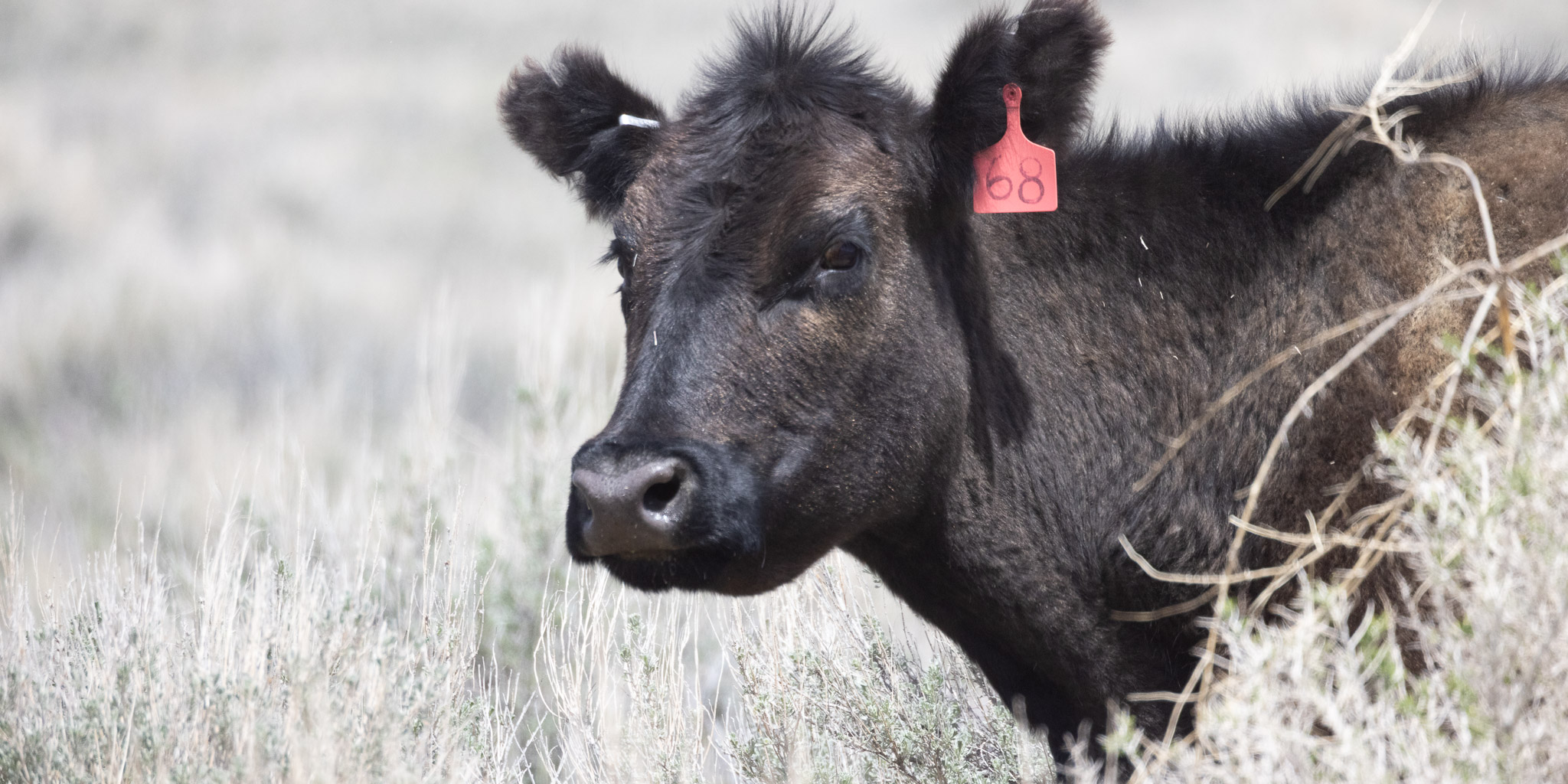 Here's another spot that got iffy that day (41.40840° N, 109.41191° W), three miles of deeply cut two-track down Middle Firehole Canyon to a nice beach at the river. There were a couple dips on this two-track I was real nervous crossing without getting hung up coming in and there was no place to turn around. But I made it down. Anticipating the drive out unsettled me enough I decided not to stay the night and headed back out. Got a nice cow pic though!
Off to Walmart for the night we go.
To Slate Creek Campground, Fontenelle WY
2022-05-07 ~ 62 miles — Slate Creek Campground (41.986137º N, 110.046774º W)is a nice little BLM campground on the river just east of Fontenelle WY. I stayed there a couple nights and got a few interesting flycatcher and eagle pictures.
To Weeping Rock Campground, Fontenelle WY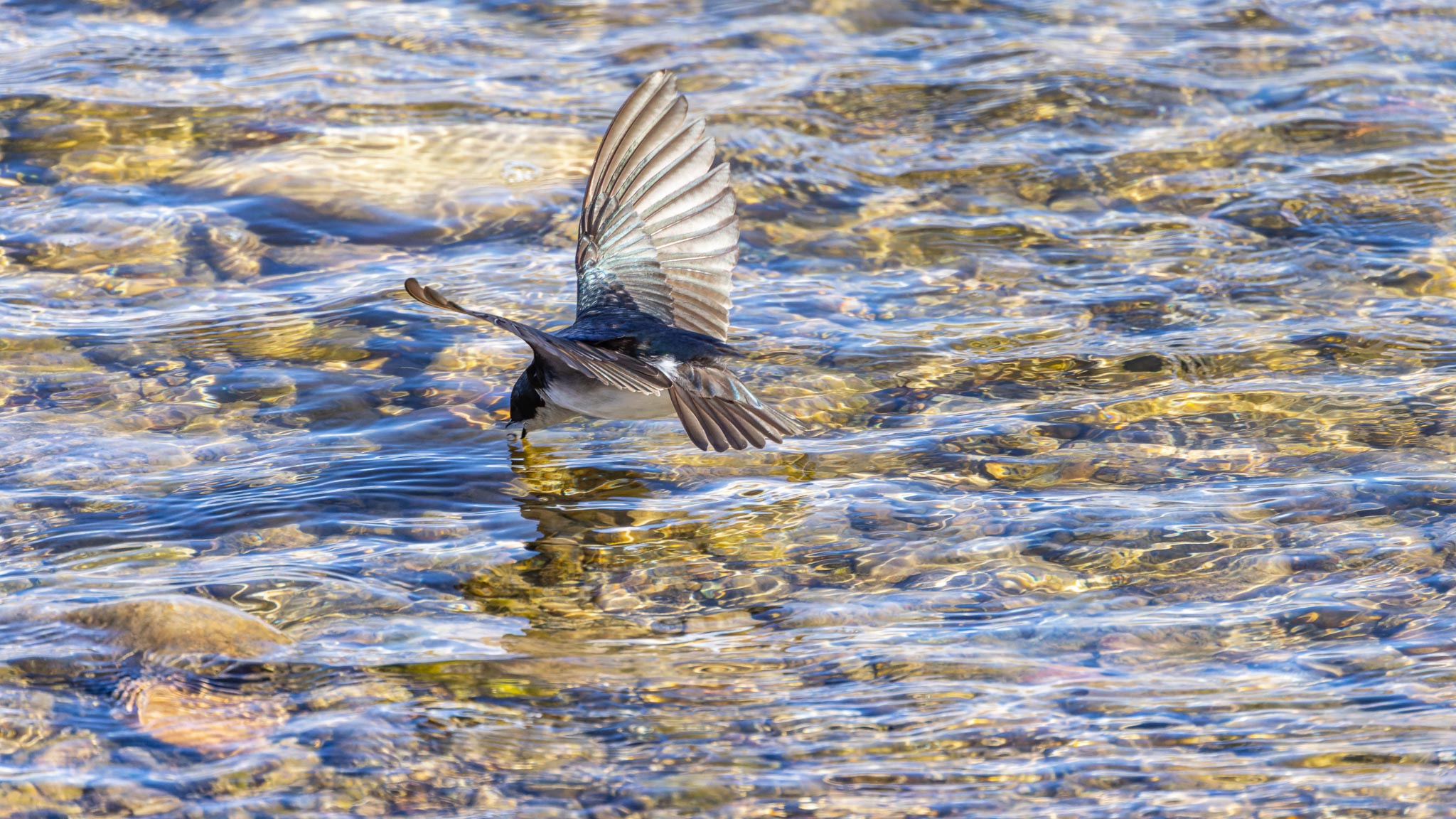 2022-05-09 ~ 61 miles — This day took me up to La Barge WY for gas and back down to Weeping Rock Campground (42.021159º N, 110.048561º W), a nice little BLM campground at the foot of Fontenelle Reservoir dam and only a couple miles above Slate Creek Campground. I thought I might find boondocking along the reservoir but no luck.
To Slate Creek Campground, Fontenelle WY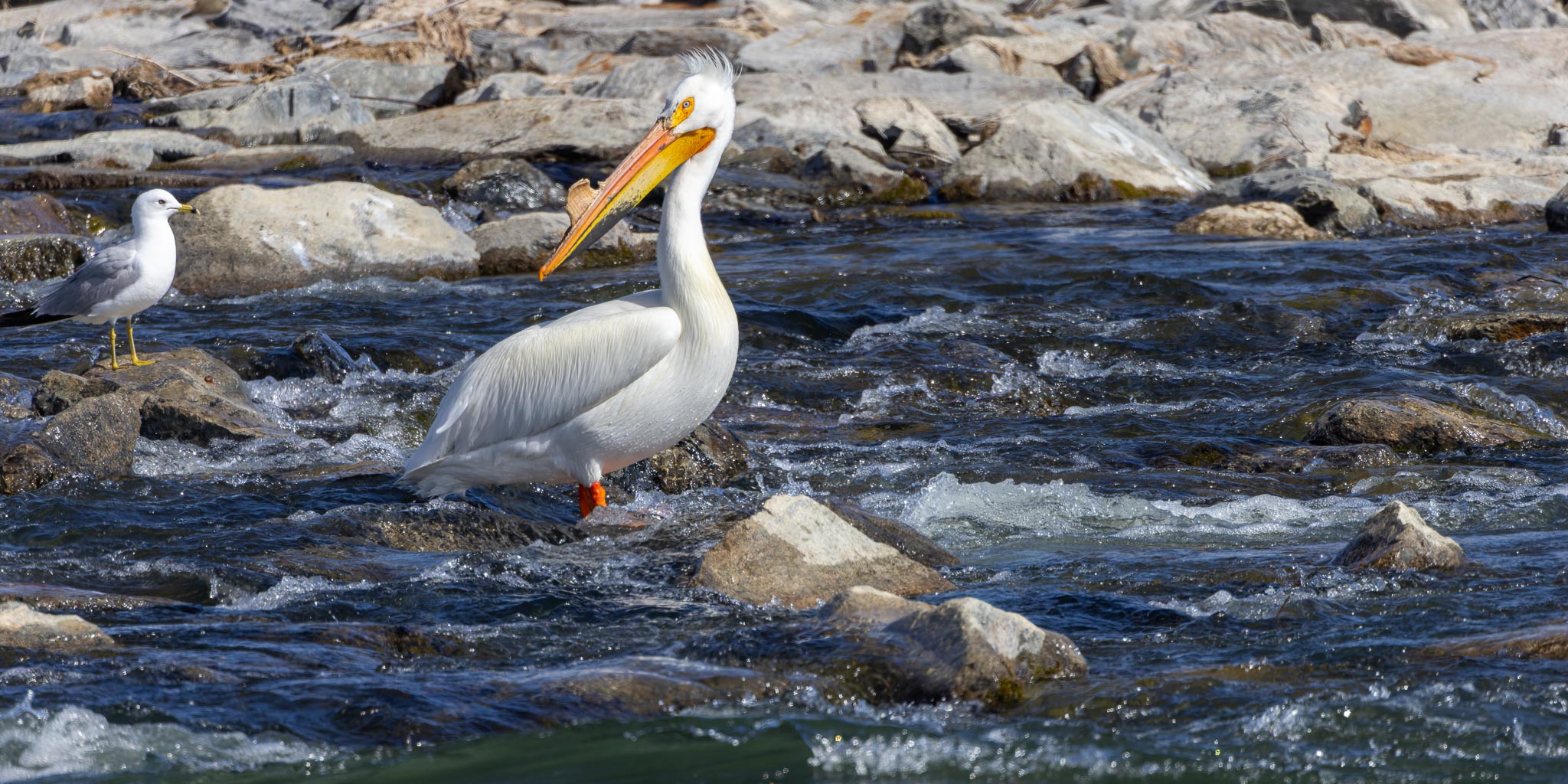 2022-05-10 ~ 51 miles (36 miles dirt) — I spent most of the day poking around the Seedskadee National Wildlife Refuge. Got a few nice pelican images.
To Big Sandy Reservoir, Farson WY
2022-05-11 ~ 58 miles (3 miles dirt) — Camped at an old abandoned campground (+42.259191, -109.438307). The dam is being raised to increase the capacity of the reservoir so I couldn't go check for boondocking spots over the dam.
To Riverton WY
2022-05-12 ~ 113 miles — Nothing special to report on this leg. Camped for the night at Walmart (43.044451º N, 108.380051º W).
To Leigh Creek Campground, Ten Sleep WY
2022-05-13 ~ 127 miles (60 miles dirt) — Yup: it's Friday the 13th!
I took this picture roughly about here: 43.63264° N, 107.40147° W. Look it up on your map in satelite view. What a gorgeous valley! I had a wild ride on that muddy dirt road coming off the divide down through this valley, the Orchard Ranch, to Ten Sleep WY.
It rained a couple days before and the road was a little muddy coming up from the south but was no real problem until I crested over the top onto the north facing slope where the soil changed to this red dirt and the road was wetter and steeper. And so muddy I couldn't keep the front wheels from sliding toward one ditch or the other anytime I applied the least bit of brake. The very necessary bit of brake! So slippery the trailer was trying to pass me! I finally put the rig in reverse and let it roll forward against the reverse resistance of the rear wheels. That let me ease down the hill without locking the front wheels. If I slid off the road I'd have been stuck there for a couple days waiting for the road to dry out (assuming I didn't slide into a ditch I couldn't get out of..:-). The crest is right about here: 43.475279º N, 107.574194º W. What an adventure!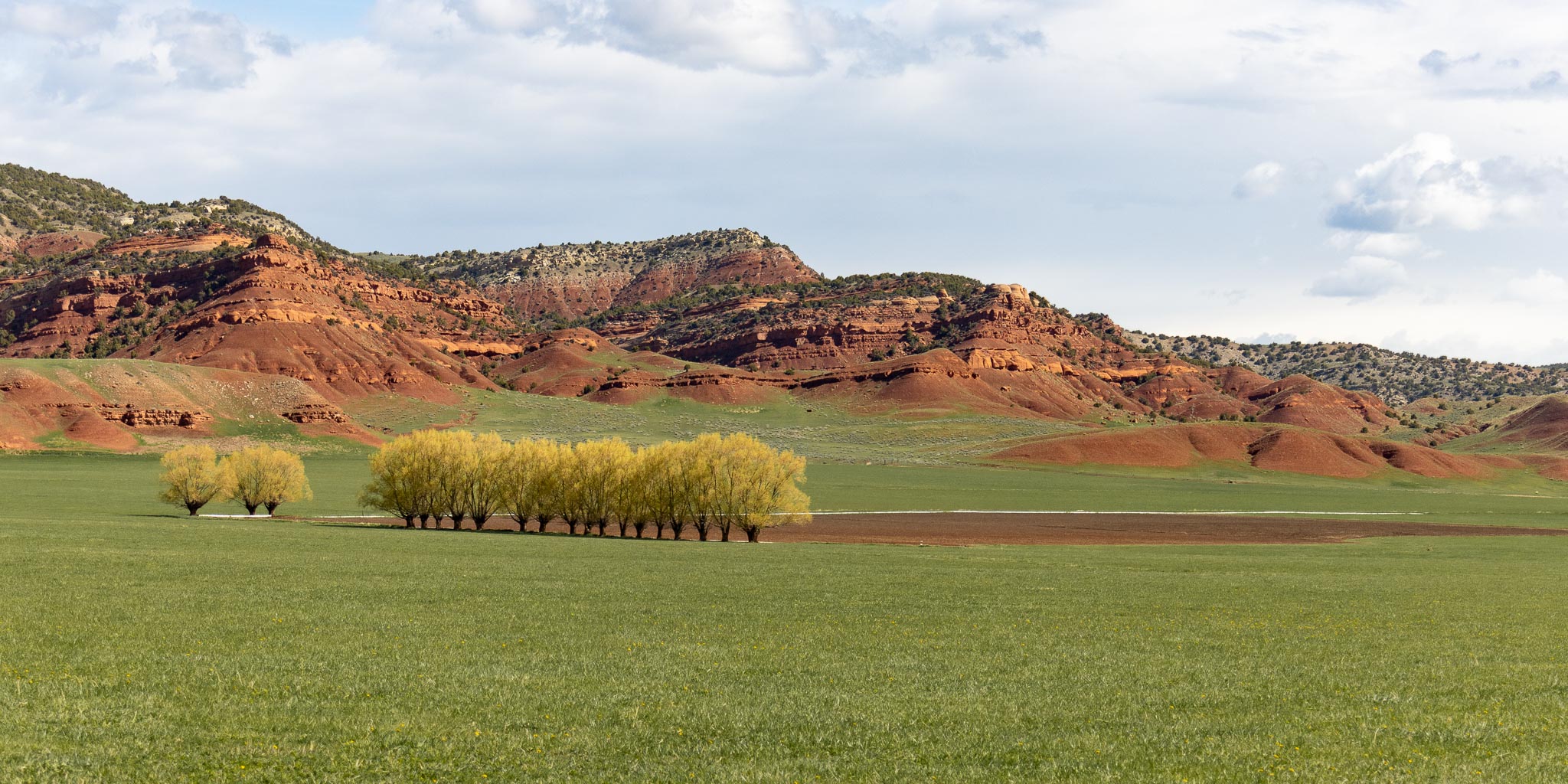 Great fun! Great view!
To Sheridan WY
2022-05-14 ~ 113 miles — Nothing special to report on this leg except it was kinda chilly at the top of 9,662 ft Powder River Pass. I arrived at Walmart in Sheridan (44.781509º N, 106.939975º W) a bit early. The Rocky Mountain Leather Trade Show doesn't start for another week.
To Tongue River Canyon Road, Dayton WY
2022-05-16 ~ 29 miles — I decided to check out this area for a few days as an alternative to the Walmart parking lot. I found a dispersed site along Tongue River Canyon Road (44.847944º N, 107.306617º W) for 3 nights. Got a few nice pictures up through the canyon.
To Sheridan WY
2022-05-19 ~ 28 miles — Back to Sheridan waiting for the Rocky Mountain Leather Trade Show on the weekend.
I decided to skip it - COVID was picking up again and I hesitated to immerse myself in the indoor crowds. Bummer.
To Red Shale Campground, Ashland MT
2022-05-21 ~ 92 miles (60 miles dirt) — I thought I might find some boondocking spots along and north of the Tongue River Reservoir. I didn't find any, though the ride up along the river to Ashland was quite pleasant and the road was well graded. I spent two nights at the pleasant, quiet, USFS Red Shale Campground (45.570466º N, 106.146932º W).
To Box Elder SD
2022-05-23 ~ 192 miles — Stopped at Americas Mailbox to pick up my mail as long as I was in the area. Stayed the night in their parking lot (44.102709º N, 103.145293º W). Nothing special about the trip down.
To Brooks Memorial Park, Martin SD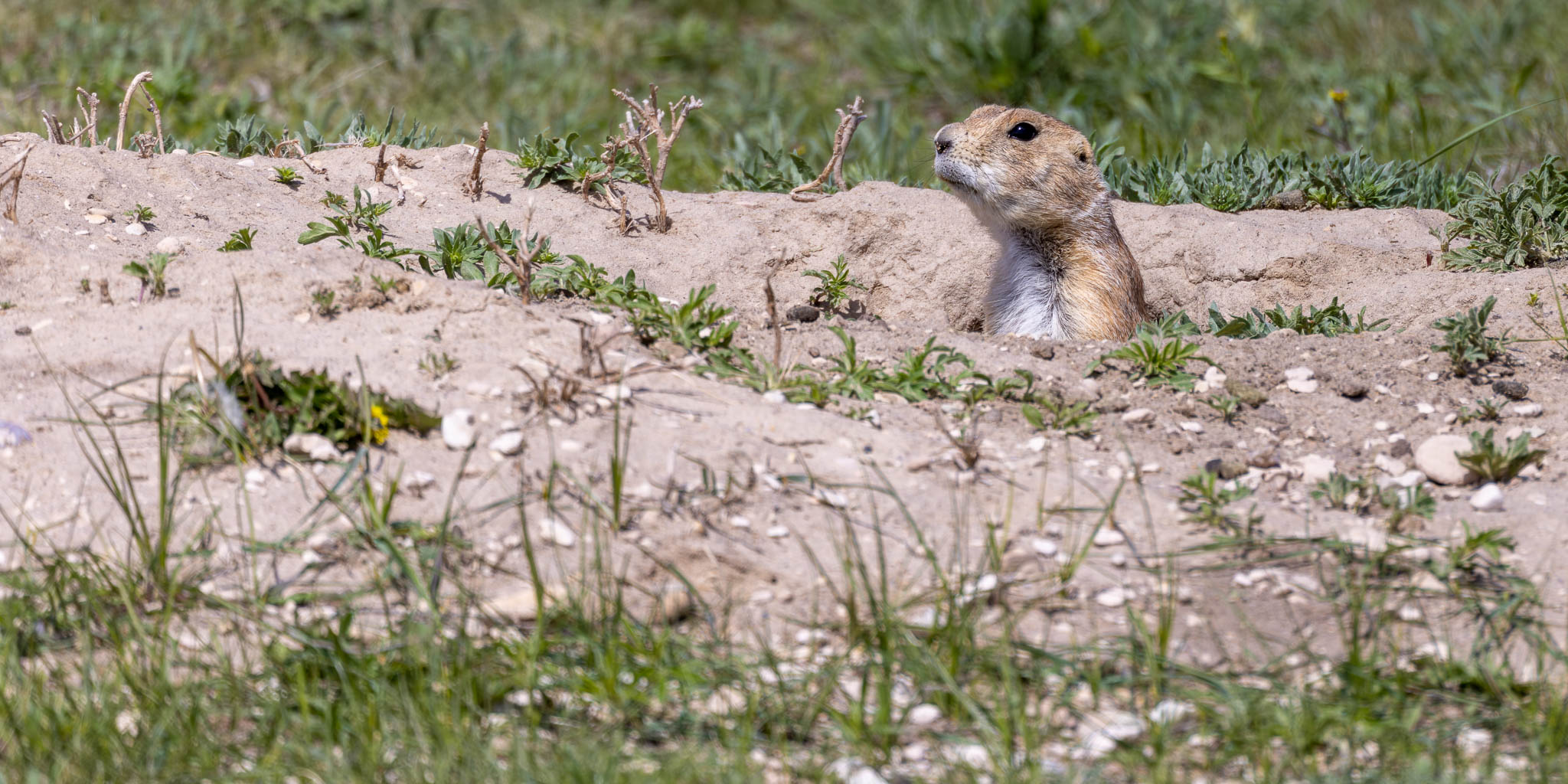 2022-05-24 ~ 130 miles — Nothing special to report on this leg, some of it through the Pine Ridge Reservation. I spent the night at Brooks Memorial City Park (43.176381º N, 101.730794º W).
To Little White River Reservoir, Tuthill SD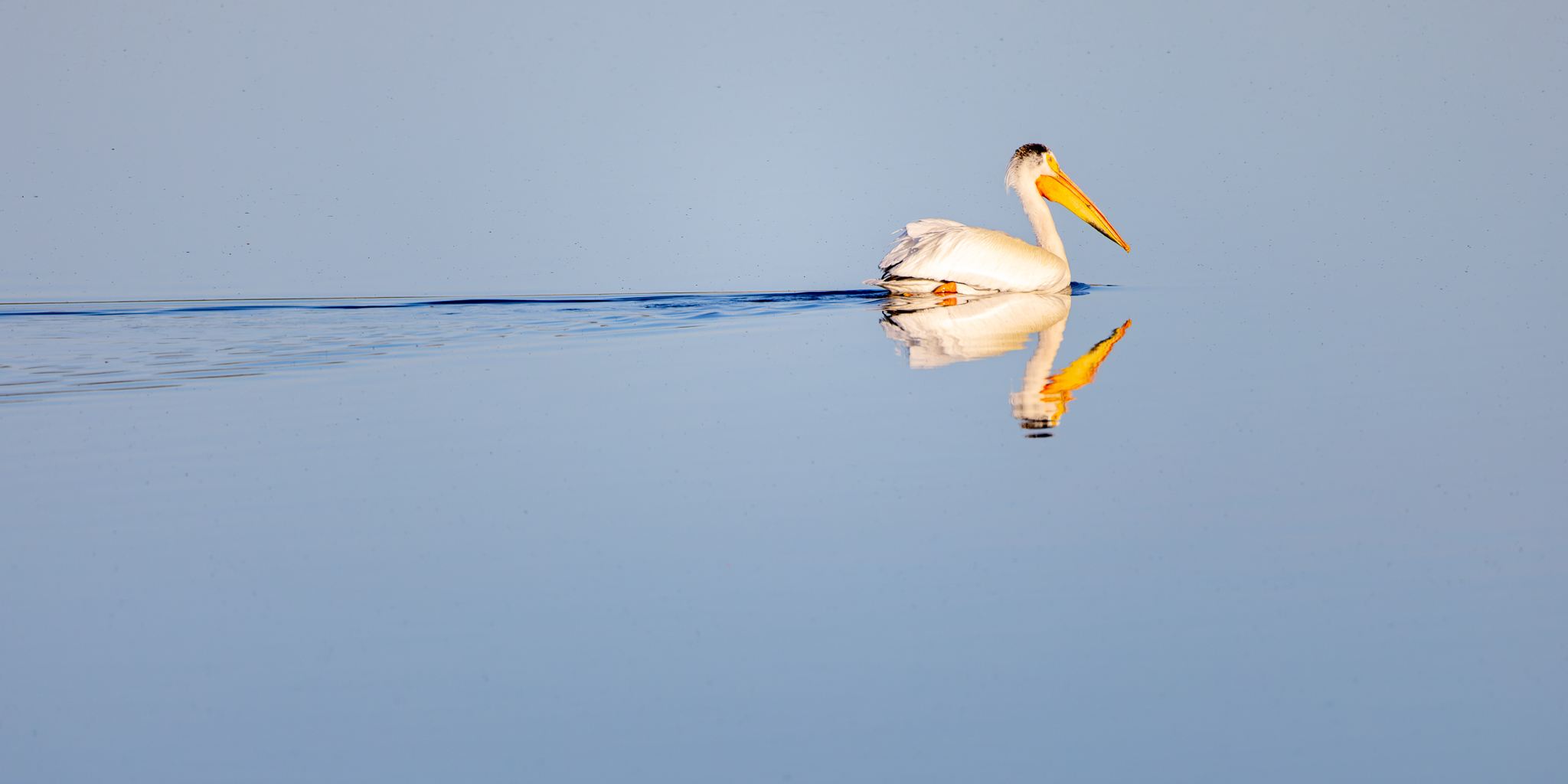 2022-05-25 ~ 39 miles (15 miles dirt) — Toured around the Lacreek National Wildlife Refuge before camping next door at the Little White River Reservoir Recreation Area dispersed campground (43.171253º N, 101.544890º W) for a few days. Got a few interesting bird pictures there.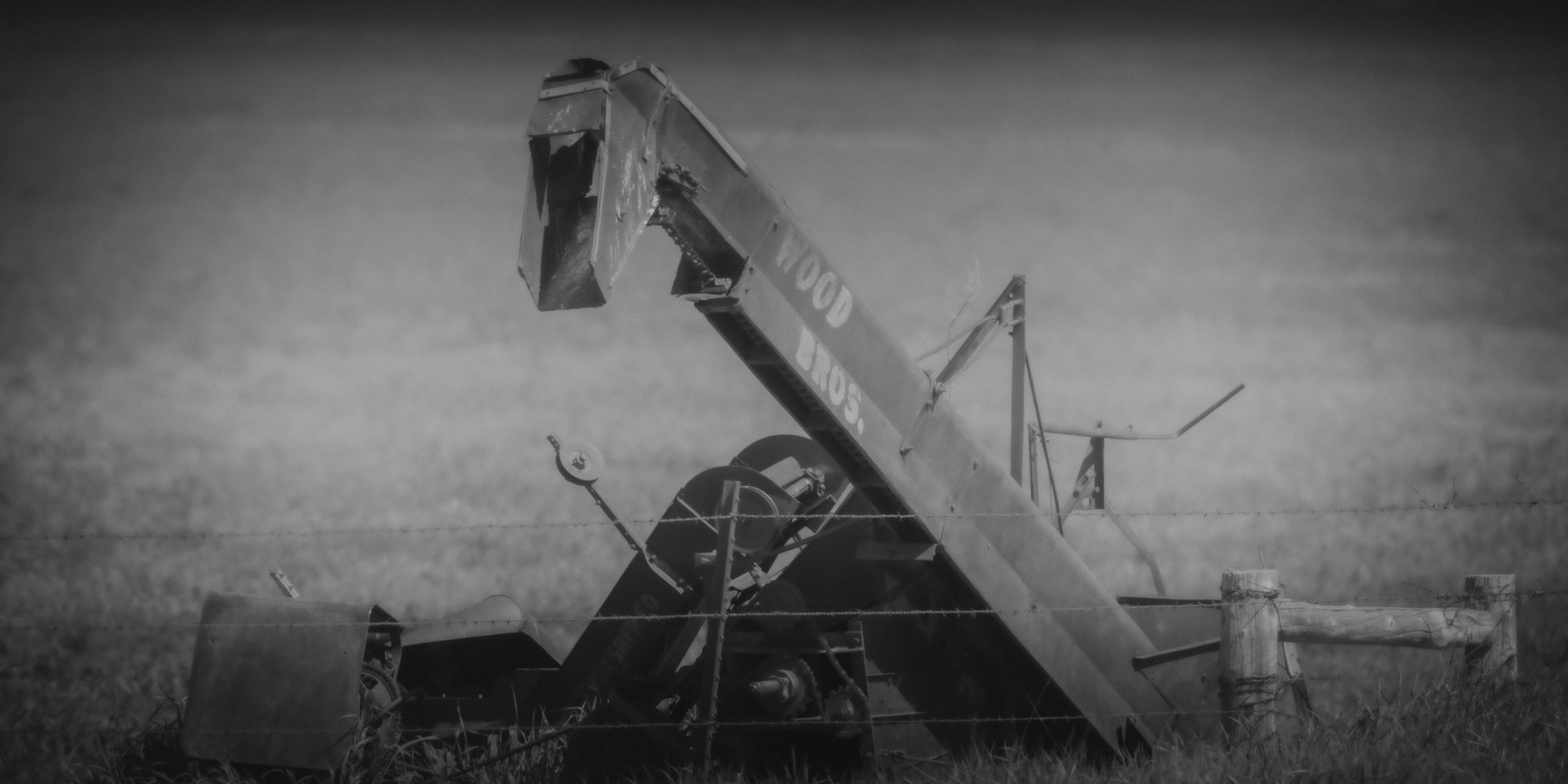 THE END
That's it for the adventure. The rest of the trip was an uneventful 2,000 miles of highway driving back to Red Rock with a stop in Dyer IN to visit with Jack, Emily and the girls for a couple days.
In summary: 2,630 miles of adventure in 56 days, with about 380 miles of the dirt road driving I was looking forward to. That's a significant amount on dirt though it seemed like a lot more whilst poking along at 5-15 miles per hour.
Would I do it again? You betcha I would! Even the dust in EVERYTHING was worth it to get to some amazing country I hadn't seen before.